Since my topic 15 th October about it, Salon Nautique de Paris has made some changes in the fee schedules of software for Windows. So I updated some prices in this previous article.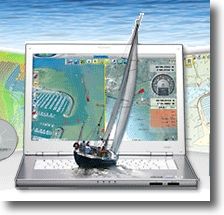 But this is not just why I write this addendum. Especially for you to share a discovery that will perhaps not good news for French buyers (and European) about MaxSea Time Zero.
On MaxSea France website, in the WebStore page, you find out the pack Time Zero Navigator Classic at price 749 € TTC. This pack includes a MapMedia chart to select, in this example I chose the detailed Coasts of France.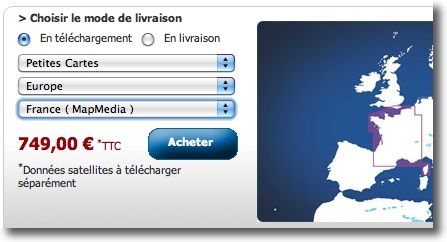 The license includes the 3D database, a global database of tides, Current data for some areas, overlay display grib weather files.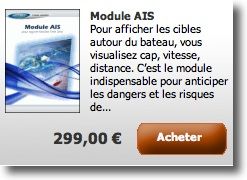 To complete, we must add the optional display module AIS at price 299 € TTC.
This results a total amount of 1048 € TTC. But for an application that knows how to show the bottom of the sea under your keel 3 in 3D, we will not quibble, no ?
-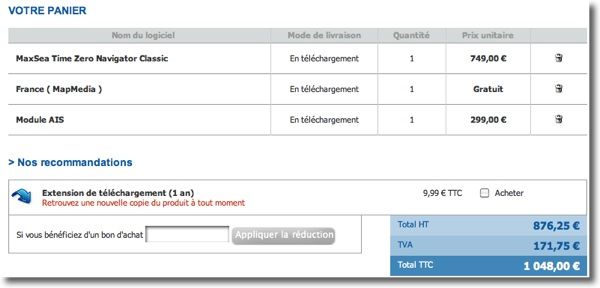 In the course of my virtual browsing, I discovered that the globalization of trade was not to align Europeans and Americans equal with pricing. Imagine that this same configuration software is supplied to the U.S. price $347, either during the day about 285 € TTC ! You can check, on the site defender.com.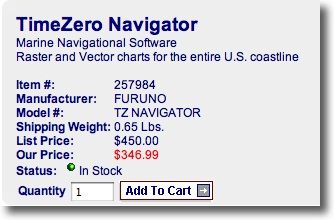 The software includes all raster and vector NOAA charts for the U.S. with satellite images, 3D Data, tides, tidal streams, and a pretty nice interface for weather. Support AIS and ARPA included. No optional module and a base price $350
Describes a recent U.S. buyer.
I wonder why business can justify that we sell across the Atlantic a product 30% its selling price in France and the rest of the world. Indépendamment de la cartographie du NOAA qui est, anyway, for free, an European user will have a vested interest in ordering its software from U.S.A., despite the extra cost of postage. He will make a saving of 50% at least on his software cost .
The answer may be found from Furuno, owner of 48% Signet SA capital, the French holding MaxSea and MapMedia, directed by Brice Pryszo, fondateur de MaxSea en 1985 ? Signet just to afford the American Nobeltec, software publisher and developer of navigation marine products. Furuno could pursue an aggressive strategy implementation in the software in the U.S. ? Go figure…
Still, for the average French yachtsman, the pill must be hard to swallow. Finally, us, with our MacENC $180, we look at it from afar… and 2D view !
Share this page :
facebook  
twitter  
linkedin  
delicious  
email