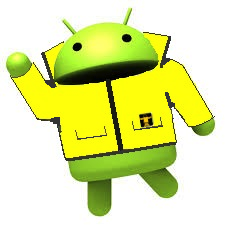 Yes, you read well : Navigation Mac talks about Android !
The issue of maritime navigation applications on Android begins to ask. At least I'm starting to get interested. First for a reason : the standard version of Weather4D will be available in a few weeks on Android, compatible with many devices (tablets and smartphones) and several versions of the operating system. It will be a good start.
As I know Olivier Bouyssou, it will not be a sub-version of iOS Weather4D but rather an identical implementation, even with some new useful feature. Here is a small illustration :
At the moment the application library remains poor. But no doubt it is expected to increase gradually.
The difficulties are great for developers, face of multiple versions of the O.S. and especially the growing number of multi-brand devices with unequal quality built-in components and features. A real headache. Given the uniqueness of Apple devices and the ease of implementation of the SDK provided by Apple, who will win ? Time will tell. Otherwise, the total lack of waterproof protection and means of support can not, today, boarding Android devices, except the few waterproof smartphone models.
Anyway, I decided preemptively to open a blog dedicated to the navigation on Android : Android Marine. The Fans need only follow the link.