You are more likely to wonder about the choice of an iPad to use navigation. Unfortunately did not have time to respond to every request (retirement is still beyond my horizon), a ticket is required. Almost three years after a similar article (¹), of course now completely obsolete, It was time to redo this issue.
Selection criteria
There are several, which does not only depend on marine use, but also the land that you will use your tablet.
Model : I have written many times on my website (

²

) and several tickets (

³

), model Wifi 3G or WiFi Cellular is imperative to have the integrated GPS. With a simple WiFi model, you must add, either GPS Bluetooth, either multiplexer to retrieve data from the GPS board.
The memory size : of 16 up to 128 Go next versions, the choice is wide. A strict use navigation, with applications using the vector mapping, 16 Go ample to go around the world. If you use the raster mapping, about ten times larger than the vector mapping equivalent geographic area, therefore 32 GB will certainly be needed. But beware : if you store your photos and videos travel, if you add music and movies, 64 Go will be necessary.
The size and screen resolution : iPad (9,7 inches) or iPad Mini (7,9 inches), I would say that the choice depends mainly on the distance to find the browser's screen. So to a certain extent on the size of vessel. I will ship a Mini iPad on a Corsair, one Muscadet, or an Etap 21. But above 6m50/7m, the distance between the helmsman and the location of the iPad might warrant a screen 10 inches for easier reading. We must also consider the size of the iPad, much smaller for iPad Mini in its waterproof case the iPad equivalent in the case. On the resolution, screens Retina High resolution generalize, but provide absolutely no comfort reading for vector mapping and most marine applications (Weather, tides, aso.). The inverse, they provide a much better finesse to display raster maps.
Different versions
We are the 6th generation of iPad and the 3rd generation of iPad Mini.
The first iPad Mini in october 2012 had the same characteristics as the iPad 2. It is always found for sale on the store refurbished products from Apple. I think for much longer. This is a great tablet, with a screen that has nothing to envy to his sister, autonomy for long days of navigation and fast charging. Replaced by'iPad Mini Retina en octobre 2013, then iPad Mini 3 en octobre 2014 which pretty much contains the same components as the AIR iPad, first name. Storage memory is now 16, 64 or 128 GB. Version 32 GB has disappeared as the Air iPad 2.
Initial iPad, 1 and 2, excellent tablets, some of which have traveled thousands of miles for several years, are unfortunately supported by Apple. This means more possible update of the OS and the rapid obsolescence of applications that developers will not retain backwards compatible. 'iPad 3, called New iPad at its output, is certainly the worst tablet range. Certainly marketed too fast, it was replaced after only seven months by'iPad 4 which corrected its many flaws, which mainly one Retina display very slow to refresh and a recharge time of more than 5 hours.
iPad Air is marketed in November 2013. This new Tablet shows a real increase in quality : plus fine, lighter, much more powerful and faster, It is equipped with a highly responsive and much brighter screen, therefore a better vision in daylight. A new battery technology has led to a significant decrease in consumption associated with a cooldown reduced to the iPad 2. Some experts consider the iPad Air as the true second Apple tablet after iPad 1 ! iPad Air 2 en octobre 2014 still brings an improvement in the quality of the display with a screen technology finer multi-lamine and anti-reflective coating. We can finally read in the Sun. It is also even more powerful with an a8x review processor coupled to the M8 coprocessor and 2 GB RAM. A still lighter racing beast (444 gr. the WiFi Cellular model).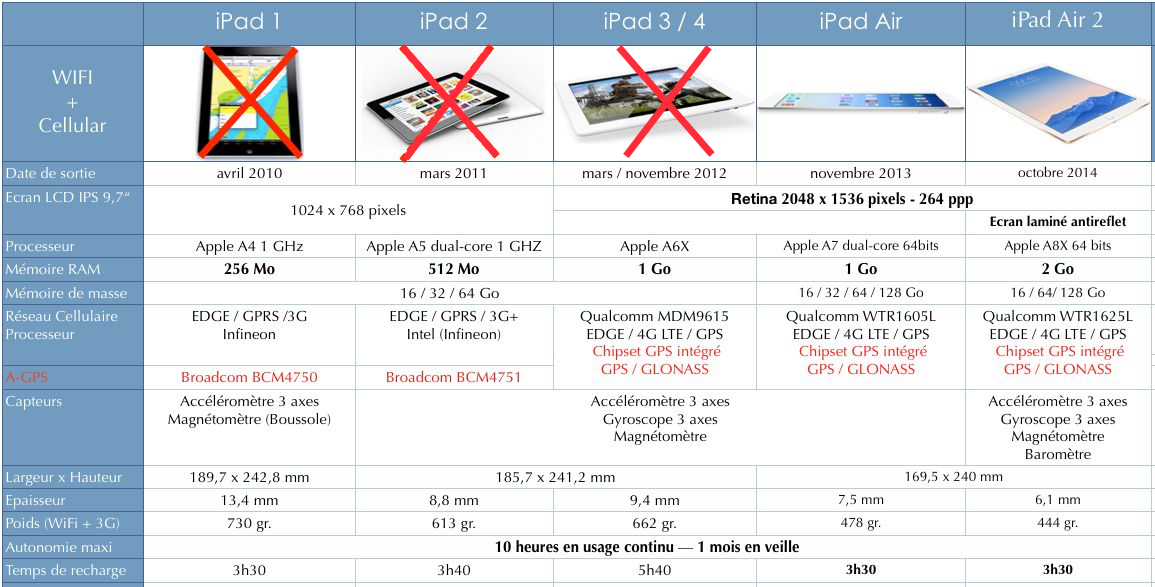 My advice
iPad 1 and 2, if you already have, keep them as they work, if not buy them used for that price or a "spare tire". iPad 1 is limited to iOS 5.1.1 and the apps are largely more up-to-date.
iPad 3, avoid. I am in my second, I know what I'm talking !
iPad 4, if you find a good opportunity, but beware of very long recharge time.
iPad and Air 2, both available from Apple Store, buy eyes closed, These are, After the number 1, the best Apple tablets. Especially for the full day of their screen use, especially iPad Air 2.
It'll talk to at the end of the year when this ticket will become obsolete with the arrival of future models.
—
(¹) Why I'll keep my iPad 1
(²) http://www.francis-fustier.fr/gpsnavxhard.html
(³) iPad, GPS and 3G cellular network subscription
—