Ultrasonic anemometers-weathervanes for yachting came up just over 15 years. Among the best known include those of the US Airmar and French LCJ Sensors. Featuring sophisticated electronics, these sensors without moving mechanical parts have the advantage of being more robust than conventional sensors, and provide more accurate data. They can also integrate other sensors as barometer, gyroscope, electronic compasses and even GPS.
The first ultrasonic sensors were fitted with a cable for power and data transfer. The manufacturer LCJ Sensors, building on the success of its CV3F sensor marketed since 2001, designed the range CV7SF, wireless models whose data is transmitted over a radio frequency to a receiver which converts them into NMEA (0183 or 2000). Power is supplied by solar cells on the sensor cap, and different output connection interfaces are proposed according to the models.
A new player, Spanish Calypso Instruments, just design a wireless sensor of a new concept, on Calypso Ultrasonic Portable, whose characteristic is to be featured with a Bluetooth Low Energy Transmission Protocol (Bluetooth 4.1), which offers many advantages.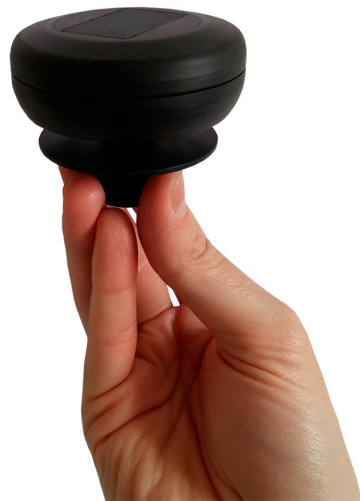 This miniaturized lightweight sensor, self-powered by the embedded solar panel, binds to a specific samson post compatible with the antenna supports 1″1/4. Ideal for storage at the end of season, for dismasted or transportable boats and boating. IPX8 Waterproof, thus 30 minutes 10 meters deep, it fears neither capsizes dinghies or sport catamaran flips. The theoretical range is about 50 meters, ample for most of mast height of our boats !
The device is provided with several electronic sensors in addition to the ultrasonic wind sensor : thermometer, magnetic compass, gyroscope and accelerometer. The data is transmitted via Bluetooth LE to all smartphones and tablets with, either with AnemoTracker application :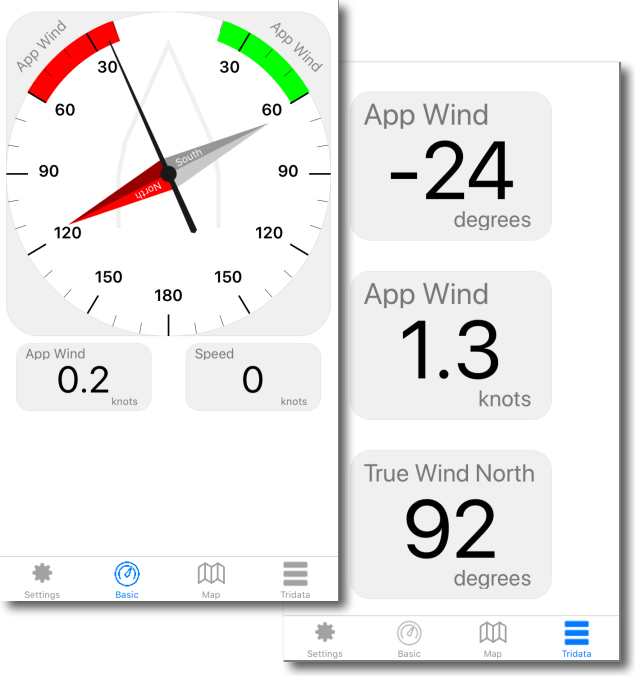 or a specifically developed application, that is the case of Weather4D 2.0. Indeed the manufacturer provides developers an SDK (Development Kit) for processing data transmitted via Bluetooth, support that has just completed Olivier Bouyssou. Finalized in our tests in September, the result is stunning.
Weather4D 2.0 and Bluetooth support
This first Bluetooth sensor required the development of a specific user interface, now present in the General Settings "Navigation" of Weather4D 2.0. Devices (iPhone / iPad) receiving directly via Bluetooth sensor transmission , it just needs to activate the connection to the sensor and data receiving is immediate (see the tutorial, video 4.12 page 97, or directly Connect to Bluetooth instruments sur Vimeo).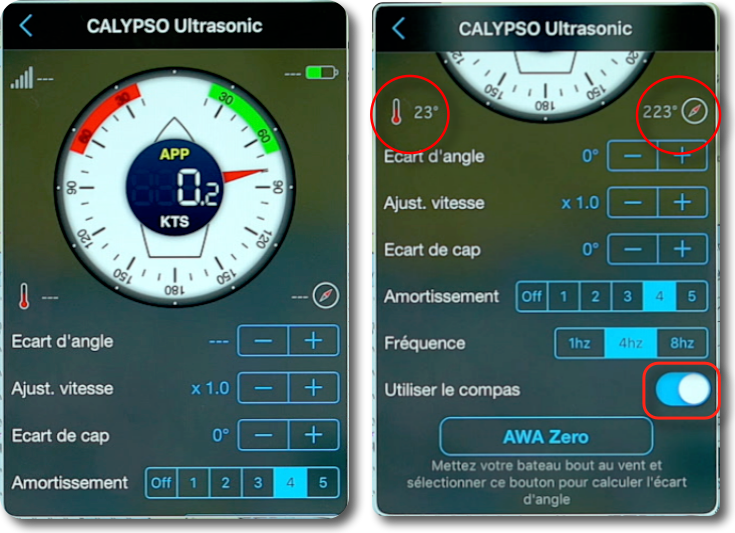 The interface displays the sensor reception quality and battery level. It displays the air temperature and the magnetic heading (HDG) if the function has been activated. The application allows fine adjustments : adjustment of the head line, wind speed, heading deviation. Damping of display for more fluidity, frequency adjustment as needed responsiveness and power management.
In addition, wind data are translated into NMEA sentence (MWV) that was added to be sent to the autopilot in "Wind" mode. They are also displayed in application instruments and can be sent to external NMEA repeaters if a Wi-Fi multiplexer or gateway was connected.
This great tool is now marketed by our friend Dominique Gauthier iTabNav.fr priced at 499 €, this is the cheapest on the market. Add 50 € more for the support mast.
–––