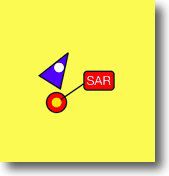 Since version 3.5.5 iNavX displays AIS-SART targets plotted as red icon and label easily identified. A tap on the icon to display text information transmitted by the beacon (position reports). Another improvement that comes to support the spread of AIS for the safety of ships and crews (*).
Principle
AIS-SART is a stand-alone radio device used to locate a rescue boat or a ship in distress by sending position reports updated through an Automatic Identification System (AIS) standard Class A. The position and time synchronization of AIS-SART are provided by a built-in GPS receiver.
Since January 1 2010, GMDSS installation on board ships (Global Maritime Distress Safety System) must include one or more tracking devices for search and rescue. These devices can be, either AIS-SART beacon (AIS Search and Rescue Transmitter), either RADAR-SART device (Search and Rescue Radar Transponder).
Operation
Position and time synchronization provide from the AIS-SART built-in GPS. Every minute, a position report is sent in a series of eight identical messages on two different frequencies (four on 161,975 MHz and four on 162,025 MHz). This scheme creates a high probability that at least one of the messages can be sent over the top of a radio wave.
Equipment
The AIS-SART beacons are generally cylindrical and brightly colored. A classic is about 250mm high and 450gr weight.
For pleasure, a new generation of personal beacons appeared on the market, such as MOB by SRT Marine Technology or easyRescue A040 by Weatherdock AG.
An application as iNavX allows therefore to straight on very accurately to reach and rescue anyone who has activate this type of AIS-SART beacon, thanks to its continuous display on the electronic card. One way to enhance the security of ships and marine.
—
(*) AIS, the second maritime revolution after the GPS
—