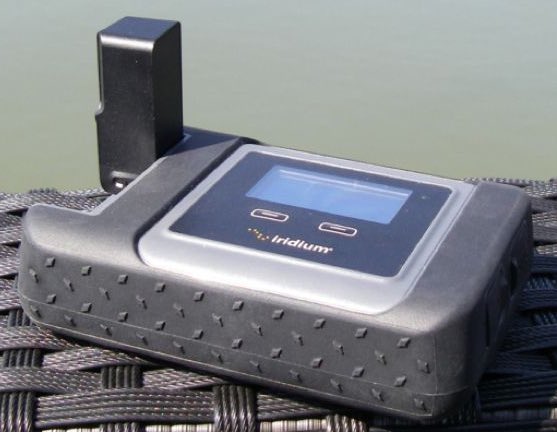 Following my previous entries (¹) concerning this satellite communication device, I stayed wary on the interest of this product despite its indisputably innovative character, indisputable ergonomics, and an excellent quality/price ratio. Youthful defects who have taken a long time to be fixed (²), and especially data transfer rate significantly lower than the other devices of the brand (Iridium 9555 and 9575) had overshadowed for me the positive aspects, mainly concerning requests for GRIB weather files.
Fortunately, a test for several weeks in October and November during a transatlantic convoyage, and a new commercial offer, were right my reticence.
This long test consisted of daily use by Olivier Bouyssou, embarked as crew of the sailing boat, in order to develop the interface provided for the development of its new application Weather4D Routing & Navigation (³). Registered as Iridium developer , he was able to benefit from the development tools and advanced technical specifications. Here are his collected findings, I could then check during a recent commissioning with a client in La Rochelle.
Antenna and reception
The swivel antenna reception quality, which acts as an on/off switch, is surprising. The device has been used for the most part inside the boat, a Dufour 560, in the cabin or under the protection of the cockpit. I myself did a commissioning in the cabin of a RM 12,60 in the old port of La Rochelle, surrounded by towers and buildings, without any difficulty. This is in support of the previous observation that I had made : an external antenna adds nothing to the reception quality, except in a metal boat. A significant economy.
Voice / data rate
Voice usage from a smartphone is excellent, the same quality level as Iridium handsets. The unit appears to be less sensitive with the gap of Iridium satellites in the sub-tropical areas. For files transfer by e-mail from an iPad, and mainly the GRIB weather files requests, the observed rate enables average download 10KB / minute. On the other hand, This slow rate was largely balanced by two benefits that follow :
Uninterrupted connections…
Unlike the phones 9555/9575, the app Iridium Mail & Web does not hang up the Iridium GO! when a transfer is interrupted by the loss of the signal out of range of a satellite. The application remains active and the unit standby resumes itself transfer to the return of the signal of a new satellite. This allows to overcome the maximum size 50 Ko imposed by the very short time passage of an Iridium satellite above the boat (5 up to 6 useful minutes), and so to make requests for more large GRIB files which will be transferred partially by several satellites until the full load without the need to act on the device. It comes immediately to mind that communication costs may become prohibitive to that use. But…
…and unlimited data
Iridium has extended its specific offer for the GO! with monthly subscriptions. Among them, the option Iridium GO Unlimited offers :
Voice = 150 minutes (According to requirements)
SMS = unlimited
Data = unlimited
From 163 € inc VAT / calendar month (best rate french dealer to date for a monthly subscription) In addition to the package of the line activation 25 € inc VAT. I said that the subscription is without commitment.
The monthly plans are established in the calendar month or date to date (a bit more expensive). You can choose a number of months after activation. We can stop the subscription and take it back a few months later, but it will again engage package activation and the provision of a new SIM. The formula presents a degree of flexibility and a price more interesting that he appears at first glance.
Actually, If we take as an example a crossing of Atlantic Europe – Caribbean, strolling by the Canary and Cape Verde Islands, about 3 months, This is a cost of (163 € x 3)+25 € = 514 € inc VAT. Six months in the Caribbean, no need for Iridium. Crossing back to Europe in June, passing through the Azores, thus 2 months up to (163 € x 2)+25 € = 351 € inc VAT. Extended cost = 865 €. Compared to a Special SIM GO! prepaid 500 minutes/voice or 1000 minutes / data valid 1 year = 862 € (852 + 10 SIM) the best price US, or to a standard SIM card Prepaid 500mn valid 1 year = 849 €, Subscription offers an almost equal rate service data unlimited and 150 minutes a month for telephony.
Tracking
Iridium offers a geolocation service from company Advanced Tracking. For 9,90 € / month (+ 25 € activation) and an adjustable number of months, simply programmed Iridium GO! at an adjustable rate in order to send an SMS with the GPS location automatically (even in standby). An account on the server Konectis allows your loved ones to track your progress at the pace of sendings. With an unlimited subscription, can be no extra cost using a high rate. In addition, nothing prevents the device to be continuously powered at a good location inside the boat.
SOS emergency
For support function SOS, Iridium has contracted with GEOS Travel Safety Group to provide an emergency coordination measures for Iridium GO! at no additional charge. Just register for free on the page GEOS Iridium and follow the procedure described in the Iridium GO user manual! The service will be operational the setting is completed.
The assistance service offered with the Iridium GO! covers all of the land and maritime activities. Thereby it can be an alternative to an EPIRB (Emergency Position Indicating Radio Beacon). However, for ships flying the French flag, a Cospas-Sarsat EPIRB became mandatory in blue water sailing since May 1 2015 (Entries D240 - 2.08, 240-2.17, D311-Annex A.1/5.6).
Conclusion
All these elements, on the one hand financial, functional on the other hand, give back to my eyes a certain attractiveness for this great trip unit. Although less expensive to buy than Iridium 9575, which must be added a WiFi gateway (Optimizer WXA-122) and an external antenna + necessary wiring, an adjustable package will offer unlimited data transfers at a cost equivalent to standard prepaid offers, a lowest market price tracking service , What more could ?
Add, to be complete, that the battery is given for 7 hours continuous talk time, 16 hours standby (According to the transmissions of position adjustment), and its use for a temperature range of-10 ° to + 55 °.
———
(¹) Iridium GO! keeps its promises [Update]
(²) Iridium GO! finally corrects its shortcomings [Update]
(³) Weather4D makes its (r)evolution
———