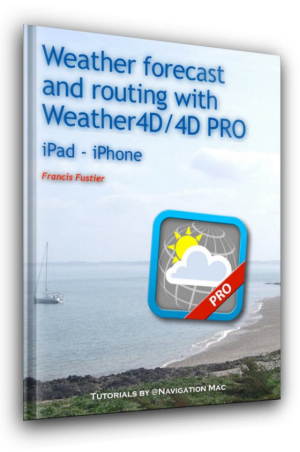 In this age of globalization, Navigation Mac is a duty to make its contribution to French balance of payments.. While many navigation applications are designed beyond our borders, we can still take pride in having, in France, of high profile companies like Max Sea, Scannav, and more recently App4Nav.
App4Nav, French is it ? Hey yes ! This is the company formed by Olivier Bouyssou to manage the development of Weather4D, the most successful applications of marine weather with iOS, and now Android. So we had a tutorial up to the international ambitions of these developments. This is done. The collection of tutorials Mac Navigation is enhanced with a new album : "Weather forecast and routing with Weatherford/ford PRO", submitted today to the Apple iBook Store.
He joined, in english translation, the first iBook "Get weather forecast with satphone at sea" published there nearly a year, who will become a useful addition. It should be available within a few days.
Following, I proceeded to update the French version, and that of the tutorial on iNavX.