In spite of'iNavX online Help and some tutorials about this subject, a lot of requests received and complexity of subject imposed on me a quick explanation.
The TCP/IP protocol
TCP / IP stands for "Transmission Control Protocol / Internet Protocol" and is pronounced "T-C-P-I-P".
TCP/IP is a communication protocol, built with a bunch of standardized rules on Internet communication and based on technics of providing a unique IP address at each network computer in order to route packets of data.
This protocol is built-in MacENC and iNavX to allow live transmit of NMEA data from marine instruments connected to the Mac.
While MacENC can work both as server (talker) and/or client (external) TCP/IP, iNavX only works as a client, in fact as a data repeater.
TCP/IP Server
MacENC provides a window accessible from the GPS > TCP/IP menu to set the application as server or client.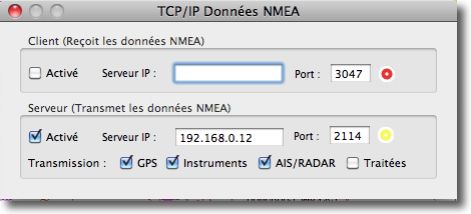 The server IP address is automatically displayed, from System Preferences of the Mac. The communications port is provided. Check boxes to select the different data to transmit (Server).
TCP/IP Client
iNavX offers, either from the homepage, menu Settings > TCP/IP, either from the Settings in Instruments, a TCP/IP client setting window.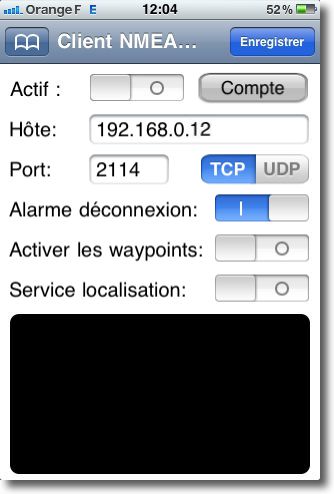 Implementation
You must first set a WiFi connection between your Mac and your iPhone/iPad (*). The same WiFi network is required for devices in order to communicate.
1 • You have to activate the server in MacENC and check type of data to transmit. The yellow dot (transmission) turn green as a client will connect.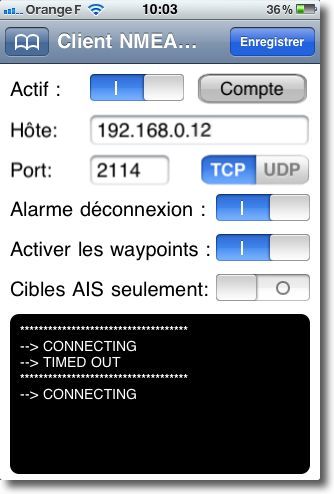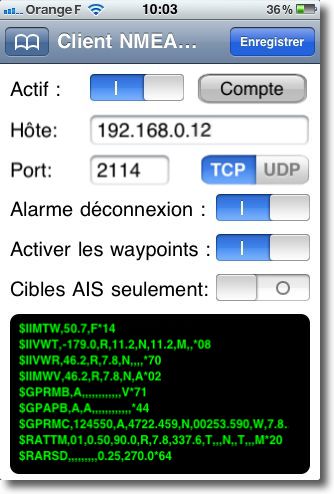 2 • In iNavX you enter the server IP address (same displayed in MacENC TCP/IP panel), the port is default, and you click the link activation dialog. You can activate the waypoints, this will display the waypoint or active route on MacENC. A disconnect alarm can be warned by a buzzer in case of loss of linking.
If you wish to receive only AIS data, while using the Location Services of the iPhone/iPad (GPS and/or cell), you enable "Only AIS Targets". All other NMEA data from the server will be unused.
Status messages appear in the window black box to display connection process.
Once the connection active, NMEA sentences progress in the window black box, you close the window by clicking " Save ».
Usage
In Chart view, position icon is displayed, and the active waypoint or route. NMEA data are displayed in the upper banner, that is activated by the disclosure button. A tap on a value it will open in a larger view.
Server connection items (IP address + port) in iNavX are saved and available for reuse by the icon " Book "In the top banner of the TCP / IP.
—
(*) Connect your iPhone to your Mac via WiFi
—
Related Articles :
Video tutorial iNavX n°2