Fugawi just joined any charting NavionicsPlus on its servers, to provide applications as iNavX. Once these new charts installed, "Chart" view displays two tabs to switch the standard chart (Nautical) to Sonar Chart (Sonar).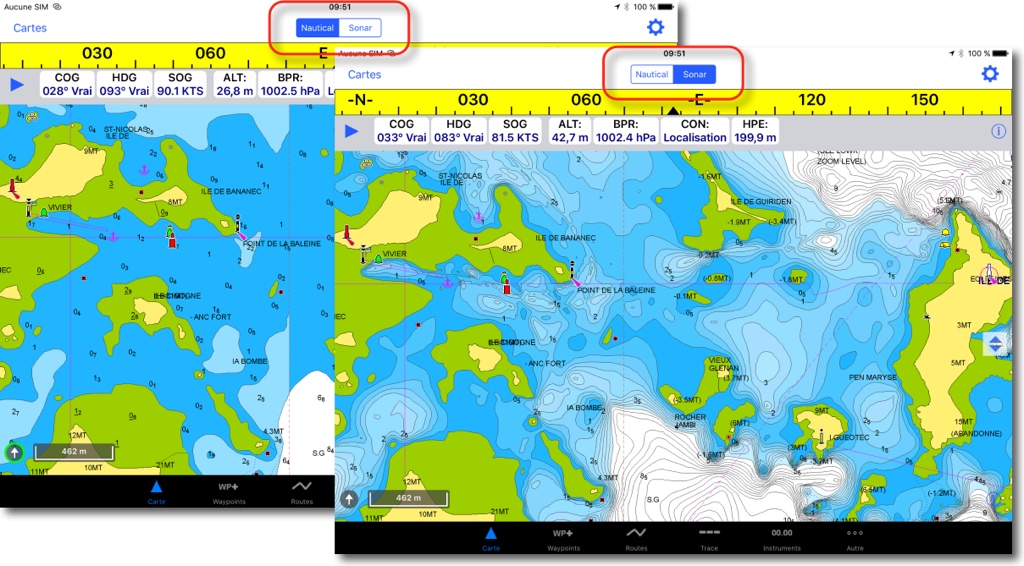 Fugawi says that users of Navionics Gold+ current may claim to support@fugawi.com a coupon code 50% to replace their chart with a NavionicsPlus covering the equivalent region. indicating what Navionics chart collection is on their account, either it is valid or expired, and for which device (iPhone or iPad). Fugawi then return a discount code to enter when purchasing the NavionicsPlus selected. The purchase can be done directly from iNavX, but also from your Fugawi account, I advice you.
So, in example, if a customer uses Navionics Gold 46XG for iPad (west coast of Europe and inland waterways), they can send an email to support@fugawi.com and ask for a discount 50% NavionicsPlus for Western and Central Europe iPad version. The customer will visit this webpage, click on "Add to Cart" and enter discount code. Instead of paying about 73 € , it will only pay 37 About €.

[Update 24 th July 2017] Navionics Gold + cards disappeared Catalog for the benefit of Navionics +. However, Sonar Charts should be used with great caution . Some may still remember of setbacks experienced in October 2015. I also never hidden my skepticism about the origin of the bathymetry in those charts (¹), while the standard nautical charts are of incontestable quality.
Warning also about storage size needed : new charts Nautical + Sonar take more than twice the space occupied by an equivalent region Navionics Gold !
–––
(¹) Marine Navionics always stronger
Navionics Mobile and Community Sharing
–––