From your Windows PC, or your Mac OSX, you want to plan, without spending a penny, your future summer boating, create waypoints for places you want to achieve, the passages that you intend to sail through, and then to transfer these waypoints in your iPhone iNavX.
Nothing easier !
A solution exists, without buying software or charts : Google Earth. Follow the guide…
Create marks in Google Earth
Google Earth, you can download for free on Windows, Mac OSX or Linux, you can see the coasts with a wealth of details. With tool " Add Placemark " You can create crossmarks on the proposed route, which will be recorded in the folder "Temporary Places" the sidebar.
while creating, you can give them a name and description.
After recording all marks desired, you save the file " Temporary Places ", by right-clicking, format .kml or .kmz (kml compressed). Both formats are accepted by iNavX.
Export marks in x-traverse
From your browser, you open the website x-traverse.com (*) to connect to your account. Once connected, you click on the icon " Upload file » top right, then in the next window " Choose file », choose the file .kml / kmz registered and click on " Open ". This will upload your file from your computer to your account on x-traverse.com website.
Then just click on the button « Create » in X-Traverse window :
To find your file in the list of files in your account transfers :
Import marks in iNavX
You launch iNavX on your iPhone, view Waypoints, then select "Transfers" : after a while access to your account X-Traverse (**) displays the files in the category "Import Waypoints / Routes", it only remains to select your kml/kmz file to download :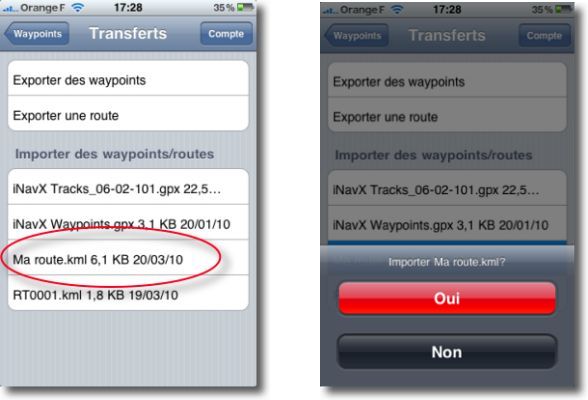 You can then see your marks on the chart turned into waypoints, and you find yourself in each waypoint panel name and description entered in Google Earth :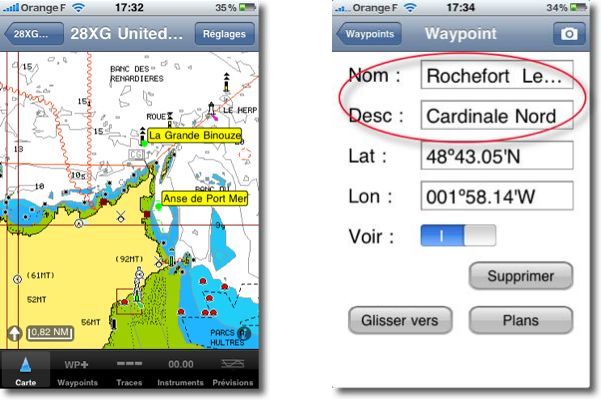 You may need to then adjust the position of waypoints, if it does not correspond exactly to a safe place, but you will have gained valuable time. And it has enabled you to dream of your next sailing legs !
Life is beautiful, isn't it ? ?
—
(
*
) You must first subscribe an account on the website
x-traverse.com
.
(**) shorter or longer depending on whether you are connected to GPRS, 3G or WiFi.