You are more likely to wonder about the choice of an iPad to use navigation. Unfortunately do not have time to respond to every request a ticket is required. Four years after a similar article, of course now completely obsolete, must annually re-update the issue.
Selection criteria
There are several, which does not only depend on marine use, but also the land use of your tablet.
Model : I have written many times on my website (

²

) and several tickets (

³

), model Wi-Fi+Cellular is imperative to be provided with GPS. With a single Wi-Fi model, you must add, either GPS Bluetooth, either multiplexer to retrieve the data NMEA from onboard GPS.
The memory size : from 32 up to 512 GB next versions, the choice is wide. A strict use navigation, with applications using the vector mapping, 32 GB may be sufficient to cross round the world. But if you use the raster charting, larger than the vector charting for equivalent area , therefore 64 GB will be needed. Beware though : if you store your travel pics and videos, if you add music and movies, 128 GB or more will not be too.
The size and screen resolution : iPad (9,7 inches) or iPad Mini (7,9 inches), I would say that the choice depends mainly on the distance between mariner and screen. So actually vessel size. I will ship a Mini iPad onboard a Corsaire, Muscadet, or Etap 21. But length more than 7 meters, the distance between the helmsman and the location of the iPad might warrant a 10 inches screen for easier reading. We must also consider the size of the iPad, smaller for an iPad Mini in its waterproof case that the iPad 9.7″ in the relevant case. About screen resolution, screen Retina high resolution provides no improvement for vector chart display (Navionics, CMap, etc.), but a contrario a much better definition for raster charting and satellite imagery. As for the latest models (iPad Air 2, iPad Pro an iPad 10.5″) they enjoy a laminated screen antireflection multilayer which now allows a correct reading daylight.
Different versions
[Update October 2017] We are with the 10th version of iPad 9.7″, the 4th version of iPad Mini, the 2nd version of iPad Pro 13″ and the first version of iPad 10″5.
• Yesterday
The first iPad Mini in october 2012 had the same characteristics as the iPad 2. It was a great tablet, with a screen that has nothing to envy to its big sister, autonomy for long days of navigation and fast power charging. Replaced by'iPad Mini Retina in October 2013, then iPad Mini 3 in October 2014 and Mini 4 the next year, which take about the same components as the iPad Air and Air2. But no model manufactured since then.
Initial iPad 1, excellent tablets that some have traveled thousands of miles for several years, are unfortunately no more supported by Apple. This means more can update the OS and the obsolescence of applications that developers can not retain backwards compatible. This will also be the case soon of the iPad 32 bits : iPad 2 and 3. iPad 3, called "New iPad" released, with its high-resolution Retina display, is certainly the worst tablet of range. Certainly marketed too fast, it was replaced after only seven months by'iPad 4 which corrected its many flaws, which mainly one Retina display very unresponsive and a recharge time of more than 5 hours.
T'iPad Air is marketed in November 2013. This new tablet shows a real increase in quality : thinner, lighter, much more powerful and faster, is featured with a highly responsive and much brighter screen, therefore a better display in daylight. A new battery technology has led to a significant decrease in consumption associated with a charging time reduced same as iPad 2. Some experts consider the iPad Air as the true second Apple tablet after iPad 1 ! T'iPad Air 2 in October 2014 still brings an improvement in the quality of the display with a thinner multi-laminated screen technology and an anti-reflective coating. We can finally read in sunlight. It is also even more powerful with a new A8X CPU coupled with M8 coprocessor and 2 GB RAM. A still lighter racing beast (444 gr. for the WiFi + Cellular model).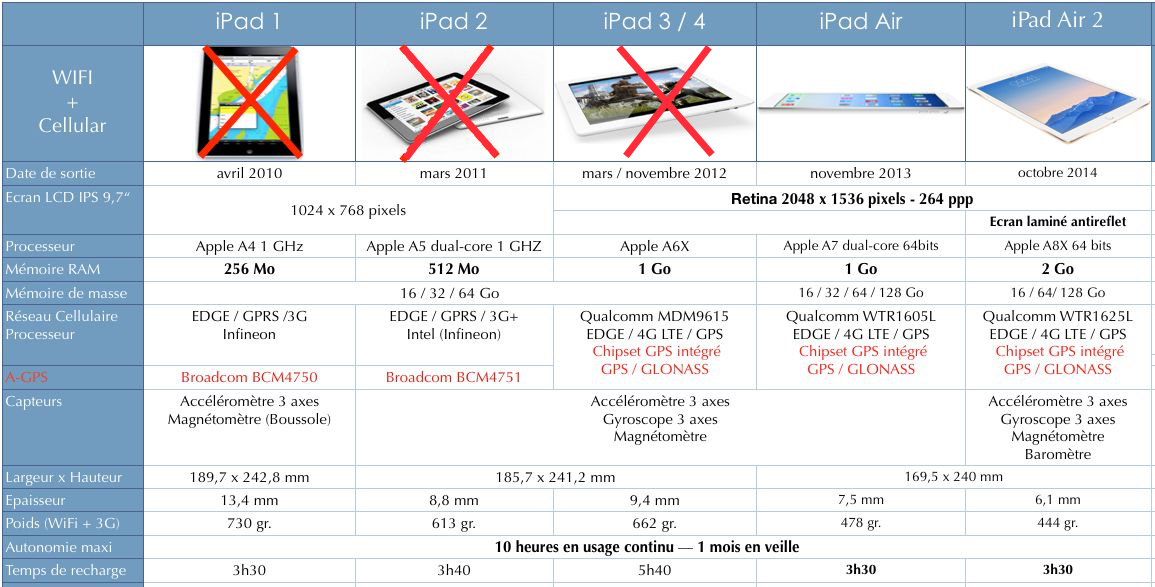 • Today
[Update October 2017] In November 2015 has launched the large iPad Pro with a 13″, screen, provided in a questionable keyboard option, sense come in competition with Surface 3 Microsoft devices for professional market. For pleasure, its size and its weight intended him essentially to the chart table, Despite the availability of a waterproof case and supports allowing to use it outdoors. March 2016, an iPad Pro 9.7″ with always more powerful processors and storage up to 256 GB, but also more expensive than the Air iPad 2, does not present then a decisive advantage for navigation use.
But since June 2017, The Pro 13″ was subject of a new release, and Pro 9.7″ was replaced by'iPad Pro 10,5″.
My advice
[Update September 2018]
• Used or Apple refurbished
iPad Air 2, we still on the store of Apple refurbished devices (Refurb Store), one of the best tablets Apple. Especially for using daylight of its laminated screen glare. But at the end 2018 this model has passed 4 years.
• New
iPad Pro 13″ and 9,7″, If you are still looking for the most recent. 13″ is heavy and therefore usually reserved for use on chart table.
iPad Pro 10,5″, the last came, but beware : there are still very few serious waterproof protection adapted to its new dimensions.
iPad 2018 9,7″, The new iPad is low cost. A good choice for its price / quality ratio.
See you next year when this post will become obsolete with the arrival of future models.
—
(²) http://www.francis-fustier.fr/gpsnavxhard.html
(³) iPad, GPS and 3G cellular network subscription
—