[Updated] Obsolete article. See Waltz of the Navionics in Fugawi labels.
Bad news for iNavX users with iPad and iPhone, the price of Navionics charts on the Fugawi website has been recently revised upward, a strong increase : from 20 up to 30% increase by region ! In addition, the price of the annual purchase renewal, that was for three years 50% the initial purchase, rise to 60%.
We were used to a steady increase of Navionics tariff in Fugawi (¹) but since 2014 It had not changed. There's a serious catch-up ! Oddly enough, the price of the same accessible areas directly from Navionics Boating applications remains much lower and… unchanged.
Finally, iNavX 5.0, having introduced the possibility to purchase charts directly from the application (in-app purchase), offers highest prices in euros 5 up to 16% pricing converted into euros on the website Fugawi/Charts. Margin levied, or tax between USA and Canada ? Go figure…
See this by a small comparison table…
By selecting our best-selling regions in France :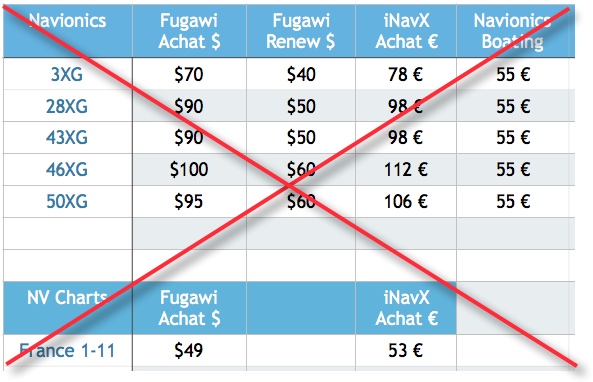 A quick test performed buying a chart on Fugawi website and its conversion into euros in the shopping cart highlights the gap with the price in euros displayed in iNavX (Charts > Store). So it's best to buy or renew your charts from your Fugawi account than directly from iNavX.
What impact have these new prices on iNavX sales, hard to say. But when charts prices reaches or exceeds 100 EUR, It is likely that users will watch competition.
–––
(¹) Navionics charts trade policy
–––