In a recent post, I mentioned the possibility of transferring wireless files between a Mac and iPad with the application Files Connect. This is of course not the only method.
In a forthcoming article, I will discuss the connection of an Iridium with a Mac OS X, to make requests and receive GRIB files in the open sea. As to date it is not yet possible to connect directly an Iridium to iPad, we will have to transfer these files as simply as possible on the iPad, to open them in iNavX.
Two options are available.
Wire transfer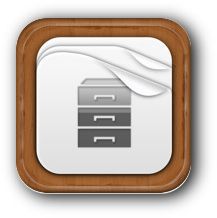 This is the easiest way and quickest to implement. You use iTunes on your Mac (or PC), the messaging app Awesome Files to install on your iPhone or iPad (two versions) and Dock/USB cord comes with the mobile.
Once downloaded the file to upload, you connect your phone to your Mac.
Open iTunes, select your device in the left column and then the tab "Apps".
At the bottom of this screen, select Awesome Files in the left column, and drag and drop your file in the "Documents". You can also use the "Add… ».
On the iPad / iPhone start Awesome Files.
You go to the screen "Documents" where you see your file.
Hold down the file icon allows you to open it and display it automatically in iNavX.
Wireless transfer
The app TeamViewer has already been mentioned on this blog (¹). It has the advantage of being free for private use and also allows file transfer via WiFi. You will use TeamViewer install on your Mac and also TeamViewer on your iPad / iPhone.
Connect your iPhone via WiFi / iPhone to your Mac (

²

).
Setup TeamViewer on your Mac as explained in the first paragraph of the article cited (

¹

).
Open TeamViewer on the device and select "Files" tool, then select "Show Remote Files" button.
Enter the ID (IP address) and the password read from TeamViewer on the Mac.
In the window that appears, check one (or more) desired file(s) then select "Copy to my iPad" button.
In the next window select "Drop here" button.
Hold down file icon allows you to open it with iNavX.
You decide which method is best for you. Vous pouvez toujours vous amuser à en trouver d'autres 😉
—
(¹) Control a Mac or PC with TeamViewer HD on iPad
(²) Connect your iPhone to your Mac via WiFi