If you open an account at Fugawi x-traverse.com, you will have the ability, more than GRIB weather files requests, to store waypoints, routes and tracks files, in order to recover it for other applications.

You have a very easy way to transfer directly from GPSNavX or MacENC to x-traverse website : small application X-Traverse available by Richard Ray from this page in French by me.
Once this application open and set with the identifiers of your account, placed next to your favorite navigation app, you can simply drag and drop a group of waypoints or a route directly from the Waypoints or Routes panel in MacENC to upload to X-Traverse account.
The files will be uploaded automatically, if you have an Internet connection :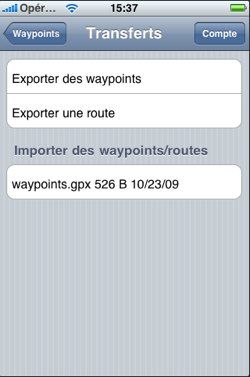 Then you'll just download those waypoints or routes from iNavX on your iPhone in "Waypoints" view choosing "Transfers". iNavX automatically shows up the files on your account x-traverse.com and display offering to import them.
This method applies only to transfers to other applications, the file format is the standard generated GPX common to most GPS, plotters and software market.
For other types of transfers, KML for Google Earth in example, you use the functions "Transfers" in menu "Waypoints", "Routes" and "Tracks" in the apps.
—