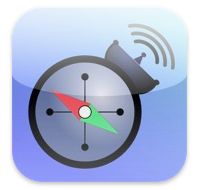 Doing follow-up to my recent post on GPS2IP, to use (tentatively) of an iPhone GPS to transmit the position to MacENC on Mac, You can also do the same for an iPad Wi - Fi with no GPS.
But, myself again, This method should only be seen as a temporary troubleshooting for the reasons which will be discussed later. The NMEA position data will be sent by GPS2IP using the TCP/IP protocol with cellular connection sharing.
Implementation of connection sharing
The connection sharing has been described in a previous article, I come back not. Once activated on the iPhone, It connects to the Wi - Fi iPad. To an IP address is displayed in GPS2IP that creates a Wi - Fi access point (HotSpot) through the sharing of cellular connection. Do not forget then to enable the location of the iPad Service.
GPS2IP settings
In the application settings page, Select 'Socket' as connection method, and 'Hotspot' as IP selection. By a tap on the info buttons (i) of these options, There are the IP address and the port that should be entered in iNavX.
Settings in iNavX
In the TCP/IP window accessible by the Settings the Instruments, Enter the values IP and port respectively in the host and Port fields. Once activated the reception, the position data are scrolled into the lower part of the window. Is recorded, and the position is then displayed on the map.
Limitations and precautions
Use permanent iPhone as GPS will not give you more than a few hours, either you will require the maintenance of the simultaneous support of both iPhone and iPad devices.
In addition, It is not possible to put GPS2IP in standby mode to access another application on the iPhone, This interrupts the transmission of data and iNavX immediately loses the connection. However, GPS2IP can work in the background by a setting to enable, in this case the consumption of the iPhone becomes dizzying.
In all cases, don't forget to activate the disconnection alarm. Also, be sure the settings in GPS2IP :
Time between shipments of position : of 'None' up to 60 min
Precision GPS : allows a choice between accuracy and consumption.
It remains therefore a troubleshooting solution. If you are in possession of an iPad Wi - Fi, for a better permanent use is steer you toward the purchase of a Bluetooth GPS (¹).
—
(¹) New Bluetooth GPS Receiver for iPhone and iPad
—